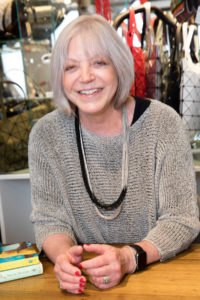 Hidden in the hills of Litchfield County, lies a hidden gem.  Workshop inc., owned and operated by Janus Nelson, sells sophisticated and diversified Women's Apparel & Accessories from unique, personally selected designers and hand crafted jewelry makers both locally and around the world.
Workshop inc. is located just off the Green in Litchfield, Connecticut in the historic Cobblestone Court horse area behind @ the Corner Restaurant.  Offering unique clothing lines including brands such as Alembika, Bryn Walker, Ecru, Issey Miyake, Planet, Save the Duck, and much more. Personalized attention is provided to all clients in selecting the perfect outfit for any occasion whether it's formal, work or casual outings.
Join the over 10,000 customers in all four corners of Connecticut, New York, New Jersey and Massachusetts that have made Workshop inc. their favorite resource for all their wardrobe needs.  Open seven days a week, Monday through Saturday from 10:30 am to 5:30 pm and Sundays noon to 5pm.